April 24th, 1950

Varese, Italy
On the 24th day of April 1950, 42 year old factory worker Bruno Facchini (left) was working the late shift, and stepped outside to get some fresh air on his break. His home city of Varese in Italy had just had a severe thunderstorm. The last distant streaks of lightning were still visible as Bruno decided to see if the electrical system had popped a circuit breaker. He was taken completely aback at what he saw not far from the factory doors. Investigating a bright glowing light which he thought was part of a factory transformer problem, he was shocked to see a circular shaped, glowing object with a ladder descended from its bottom. At the top of the UFO was a greenish glow which partially obscured a light-skinned being. The unusual being appeared to be welding something on the craft. Bruno's first impression of the craft was that it was a type of experimental craft from a nearby air base. His impression was quickly altered by the sight of several other small alien creatures which emerged from the craft. In a moment or two, the ladder began to be drawn up into the mysterious craft, and the beings began to reenter the craft through an invisible door of some kind.

The full realization of what he was witnessing sent Bruno into a full run away from the frightening encounter. As he fled, he heard a sound like that of a large beehive. One of the remaining creatures pointed a type of weapon at the scared worker, and a beam of force knocked him to the ground.
Although in pain, he was able to watch the last activities of the strange aliens as they prepared the craft to take off. The beehive like sound increased as the object made its way into the skies and vanished from view. The next day, Bruno made a full report of his encounter to the police force. There were signs still visible of the activities of the night before.

Police found burned patches on the ground, and indentation marks of an extremely heavy object. Also found were some odd, green pieces of a metal-like substance.
Bruno recounted the welding operation, and suggested that the green pieces of debris were refuse of the process. The fragments were analyzed. The results of this test concluded that the fragments were an "anti-friction" material, containing several types of metal along with a lubricant. In September 1953, UFO investigators had their own tests conducted on the green substance.
A scientific institute specializing in metallurgy assessed that the fragments were 74% copper, 19% tin, and other trace elements. The substance, under heavy magnification was a yellow-white color, but did not contain any metals which could not be found on Earth. These conclusions did not entirely rule out the possibility of an extraterrestrial connection in the case of Bruno Facchini. There is no way to conclude that the metal composition could not be made on another planet. Facchini's accept was taken very seriously by all who knew him. He was a respectable man, well liked, and considered to be reliable and trustworthy. He gained nothing from his tale of the strange object and occupants he described on the night of April 24, 1950.

source:
Eye witness statements, UFO Italy.
http://www.ufocasebook.com/vareseitaly1950.html
Varese
(pronounced [vaˈreze] in Italian; Baretium in Latin) is a city in north-western Lombardy, northern Italy, 55 km north of Milan. It is the capital of the Province of Varese. The hinterland or urban part of the city is called Varesotto.
The province of Varese already had its share of UFO sightings, yet this case is in fact one of the most well known "early" close encounters of the third kind in Italy. Here is the full and correct story:
Bruno Facchini, 40, is a mechanic, married, father of a young boy, lives in a colonial house in Abbiate Guazzone, Varese, Italy, a few miles from the motorway to Milan.
On 24th April 1950, at 10:00pm, the rain had just stopped after a violent thunderstorm, and he went outside his home to go to the toilet seat in a shack, and when he was about to return home after smoking a cigarette, he saw several strange flashing lights which at the time he thought were being generated by the storm, in a field adjacent to his home.
He decided to investigate anyway, because the lights were in the direction of a power line pole. The high voltage power line goes right over the village, and another of its poles is right in front of his home. He thought that a power cable may have fallen to the ground, which may explain the flashes, and he became afraid that his kid might get hurt if he grabbed it when playing outside the next day. He took a pathway that delimited the ground of a furnace and walked toward the place where he saw the flashing light, but saw nothing anymore. As he was about to go back to his home, he saw the lights again, and went in their direction again.
He told Antonio Giudicci:
"It was still a little farther. I decided to go there. Then I saw there a huge dark shape, like a ball, with a flattened top."
He saw that the dark object some 200 yards away, next to the power line pole. He estimated it to be 10 meters large and 7 meters high.
He told Antonio Giudicci:
"In the middle [of the shape] there was a small ladder, lightened by a green light. Almost immediately, I understood that the light came from some sort of lamp handled by a standing man who seemed to be engaged in welding. He wore something like a diving suit and a mask."
Later he summarized for the press:
"Next to a power line pole and to a [gelso, ?] I saw a huge, round shape. From the illuminated disc, a ladder came down. A door opened. I could see inside the UFO, because a light diffused inside, there was another ladder leading to a higher level of the craft; on the walls, there were bottles connected together in rows and between them I could notice that there were gauges and tubes."
He told Antonio Giudicci:
"Driven by curiosity, at went closer, and I saw two other people, with the same clothing, moving slowly around the craft - I guessed that their diving suit was heavy and slowed down their movements. The craft, lighted by the welding tool, cast metallic reflections back."
The sparks Facchini had seen were pouring out of pipes; which one of the figure was working on with some type of device. The inside of the craft could be partially seen through an open vent. Inside were lots of dials and cylinders. The air around the craft was unusually warm and a buzzing sound like a giant beehive was heard constantly.
All the figures were similarly dressed in grayish one-piece tight fitting clothes and were wearing helmets but their faces were concealed behind masks from the front of which emerged one flexible pipe which reminded him of a breathing tube. Facchini later said he found them to be of the same size than human beings, about 1 meter 70.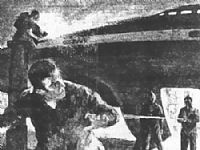 At that time he thought that an aircraft in trouble because of the storm had landed and that the people were trying to do some repair, or maybe be some American pilots, repairing some new aircraft that failed and he did not know of. After watching for a while, he approached within four to five meters of the craft and offered his help:
He then started to realize they might not be American pilots, as the beings started to converse with each other and call him in "a guttural language," and also because they moved with difficulties and made "strange gestures" at him, which he felt may be an offer to come aboard. The invitation and the realization that they were not human threw him in a state of panic.
He told Antonio Giudicci:
"I offered to help, but the only answer I received were some guttural sounds that were not understandable. I wondered what their intentions were. I had the feeling they were inviting me aboard. Suddenly I heard an uproar, like the amplified buzz of a bee, or a huge power generator. I saw another ladder in the interior of the craft, and all around, tubes, cylinders, and gauges. I understood that this was not a plane, and I was seized by panic, I started to run away."

"I was not so close anymore when I turned my head back. I saw one of the men raise some sort of apparatus he carried at his side and beam a ray of light in my direction. I started to run again, but immediately, I felt as if I was cut in two parts by some cutting tool or by a jet of compressed air and I fell flat."
Later he told to the press:
"After a while I saw four beings around the disc. Two were beside the ladder. A third one seemed to attempt to weld together a group of tubes. Exactly this operation produced the strange flashing that had attracted my attention. Thinking that this was some test of a secret prototype, I approached them asking if they had need for help. The beings started to make strange gestures and emitted guttural sounds, something like "gurr... gurr..." At that moment the craft was started and it was only then that I understood that they were not human beings. Seized by panic, I started to run away. While I ran, I has a glimpse at them and I saw that one of those individuals was directing something at me."
He felt pushed to the ground for several yards and knocked down. Later he said it was like feeling a strong discharge and a burning sensation on the skin of his abdomen. He stayed on the ground but looked what was going on.
Shortly afterwards, when the repairs has apparently been completed, the "American pilots" then returned to their craft, a trap through which light had been shining was closed and the craft took off sideways, making a heavy buzzing sound.
He told Antonio Giudicci:
"They seemed not to be interested in my anymore. I am convinced they only wanted to scare me and had no intention to do anything wrong to me." "They were busy in removing the scaffold and withdrawing the ladder. Then the door closed. All the lights went out. And the buzzing sound continued. Suddenly the sound became louder. The craft took off, gained speed and disappeared."
Later he told to the press:
"I was hit at the back by a light beam, and it had such a force that I felt pushed. I lost my equilibrium and I hit the ground, knocking my the head against a stone. Hurt, scared and [intontito. ?], I stayed on the ground without moving. In the meantime those beings were finishing their welding job. Then they all entered in the disc, it closed and went away."
He stayed on the ground for a while, looking at the sky. Everything was silent again. Finally he went back home, and unsurprisingly he could not sleep very well that night.
The following day Facchini returned to the site, because he had lost his cigarette box there when he fell. He noticed that there were some traces and four circular depressions of one-meter diameter each, arranged in a square pattern of 6 meters side length. The grass around it is burnt and lots of pieces of melted metal are on the ground.
"The next morning, after a sleepless night, I went back to the location and I found four wide circular traces, a meter wide each. The grass in it was burnt. on various places on the ground, there were pieces of metal."
Facchini then went to the police headquarters of Varese and an investigation was carried out by unmotivated policemen there and also allegedly by military technicians (the presence of military technician may well be an exaggeration of the Press.)
The police went on location and saw the ground traces, and Facchini or the police handled the debris who were sent to the research institute for the studies of metals in Novara. The institute examined the samples and merely said they were heat-resistant, antifriction metal, which were commented as "would be ideal in space flight to face the burn-up as the craft entered the Earth's atmosphere," although it is not clear who made that comment.
Several days after the encounter, Facchini estimated he was hurt enough to justify a visit to an MD. The MD found that Facchini had a blackened mark where the beam hit him, and this mark grew until it covered his entire back, causing him pains for a whole month. Because he was thrown to the ground when hit by the beam, he also had several normal wounds.
The next year, some of the debris are examined again by Renato Vesco, from Genova, one of the very first Italian private UFO investigator, and Vesco concluded the samples are essentially bronze with an elevated percentage of pond and some traces of lead.
Facchini said he never really recovered psychologically. Many ufologists visited him time and time again, to check if he really told the story they read in ufological publications, and he always did, with no changes in the account.
In 1981, Italian ufologist Ezio Bernardini met him, and re-interviewed him. Nothing in the story had changed. Facchini told him that when he saw the moon landings on TV, he was stunned that the astronauts' suits reminded him to the suits of his visitors. He described their clothing as "diving suits" in 1950, but now he understood that they were "space suits" or earth-landing suits if you will.
A Navy officer reported a conversation with Facchini:
"You are really a luck one! I would have given a lot to be able to admire shat you saw, this technological marvel!"
Facchini's answer was bitter.
"Lucky, Me? If I had known how much trouble I would get from this experience, I would not have said one word about it, guaranteed!"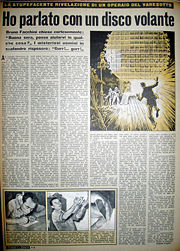 BRUNO FACCHINI: A FAMOUS ITALIAN CE-III WITNESS RE-VISITED

Ezio Bernardini

, excerpt from FSR 1987 No. 4

(C.U.N., Italian National Ufological Centre) (Translation from Italian)

Premise

On April 24, 1950, at a place called Abbiate Guaz-zone (Varese region — 45D 49 N., 8° 50 E.), which lies slightly to the east of Lake Maggiore in Northern Italy, the 42-year-old worker Bruno Facchini was the protagonist of a truly mind-boggling experience which, at the time, received widespread treatment both in the Italian regular press and in the "Rivista Aeronautica " (Aeronautical Review).

Facchini, a capable and highly esteemed worker, employed at the time in a local firm, was living in a little house on the outskirts of the village. He had stepped outside from the house [and noticed a flash.] [When he went to investigate], he perceived an enormous black shadow, almost round, "like a ball flattened from above". In the middle of it there was a small ladder, from the top of which was coming a faint greenish light, and he was now able to see at close hand the source of the flashing. An individual wearing a "diver's suit" and a mask, on top of a sort of pneumatic lift, seemed to be welding something. The hull of the craft, lit by the glow from the welding, gave off metallic reflections. Two other individuals, about 1 m 70 in height, also in "divers' suits", were moving very slowly around the craft, as though hampered by the suits they were wearing. Over their faces they wore masks of the same dark colour as the "divers' suits", terminating at the level of the mouth in a tube with a little opening at the end.

Facchini's first thought was that it was a military aircraft in difficulty (the military airfields of Vergiate and Venegono were only a few kilometres distant), and he went up and asked if he could be of any help. The response was some incomprehensible guttural sounds. Meanwhile, in the interior of the object, he had caught sight of a second ladder, and all around on the walls, tubes, cylinders, and gauges. At the same time, he noticed a noise "like the sound of a gigantic beehive".

At that point it was that Bruno Facchini grasped that he was in the presence of no aeroplane. Seized with panic, he took to his heels.

Turning back as he ran, he saw one of the crew point at him a sort of "photographic apparatus" that he was wearing round his neck, and shoot a beam of light at him. He felt immediately as though he had been struck by a powerful jet of compressed air and it sent him rolling on the ground. Bruised and aching, but perfectly conscious, Facchini then saw the lift descend, bringing down with it the individual with the welding equipment, and then reduce in size until it (the lift) was a sort of small box. Then the crew put it into the craft. The ladder was now drawn in and the door closed. Then the hum that Facchini had heard right at the start became louder and, a few instants later, the craft rose and vanished at a fantastic speed into the darkness of the night.

Next day, Facchini reported the matter to the Police Station in Varese, and the Authorities started their investigations at the spot. On the ground, which was quite hard, were visible four round impressions about one metre in diameter and distant about six metres from each other and set in a square. The grass was scorched or withered, and some small fragments of metal were found at the site; probably the remains from the welding. They were of a shiny metal with a granulous surface which, when analyzed, was defined as "an anti-friction metal", very resistant to heat.


Source: Ezio Bernardini, excerpt from FSR 1987 No. 4